We can support you with your presentation plans and provide various marketing and advertising possibilities so that the EMV will be complete success for you.
Warm-up event: maximize your trade fair success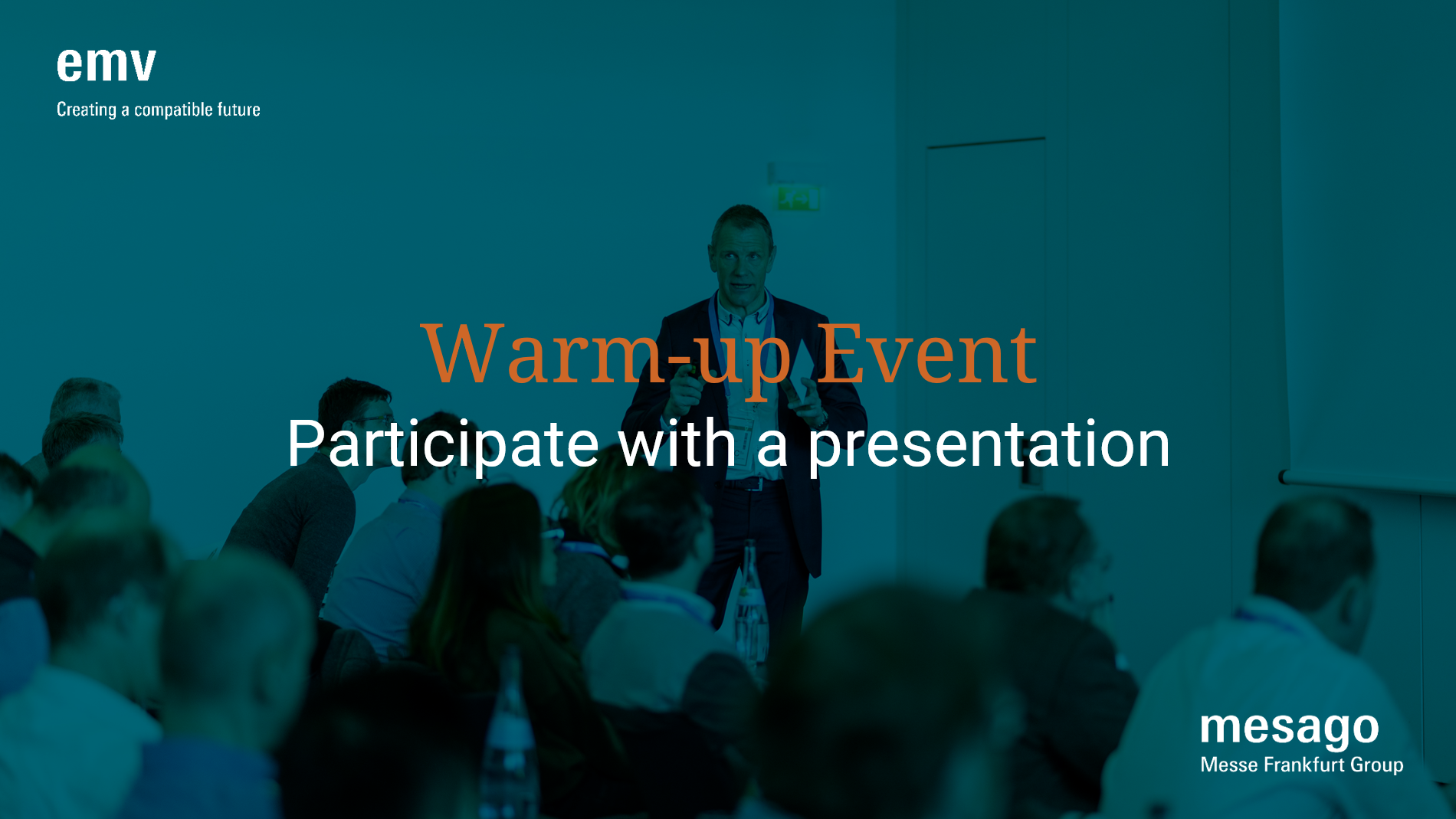 EMV's digital warm-up event gives attendees a glimpse of what to expect in Cologne. The event, which lasts approximately two hours, focuses on two to four exhibitor presentations and is complemented by a keynote.
This is your chance to put the spotlight on yourself and stay one step ahead of all the other exhibitors: let potential customers know which products you will be presenting at the trade show this year, and make valuable contacts even before the show date. Together, we will thus awaken the anticipation for the summer edition of the EMV!
Overview

28 June 2022, 2 – approx. 4 p.m. (CET), digital

Two to four short presentations by EMV exhibitors of 15 minutes each

Moderated event incl. keynote

Technical illustration via Zoom (incl. short training of the speakers by Mesago)

To register, please use the last page of the brochure: Fill out form and email to carina.stengel@mesago.com.
Achieve more with your EMC webinar
Do you have an already produced webinar, product demonstration or specific application examples? Book an advertising spot to get the most out of your expert content and benefit from EMV's reach.
You can reach potential customers 365 days a year via the EMV webinar collection, regardless of the trade show date. The great thing is that you don't have to create the webinar separately, but can use existing video files or links from your company. So you save time and effort and get the most out of your content.
By the way: EMV achieved top rankings on Google in 2020 for search terms related to "EMV Webinar", (German) and that without any advertising measures. Advertising campaigns are planned for the 2022 event year, including on LinkedIn and Google, to give you even greater visibility.
Examples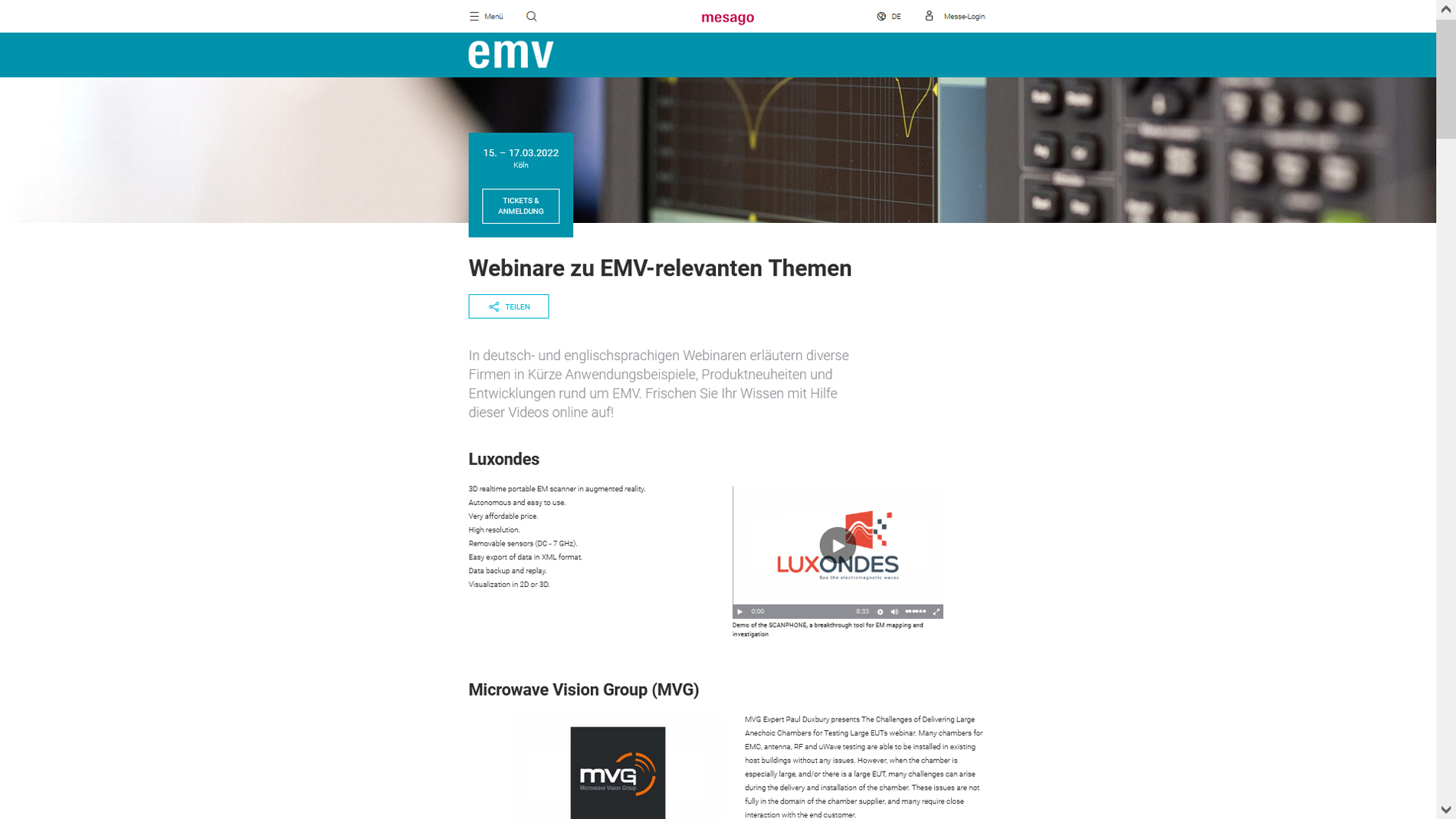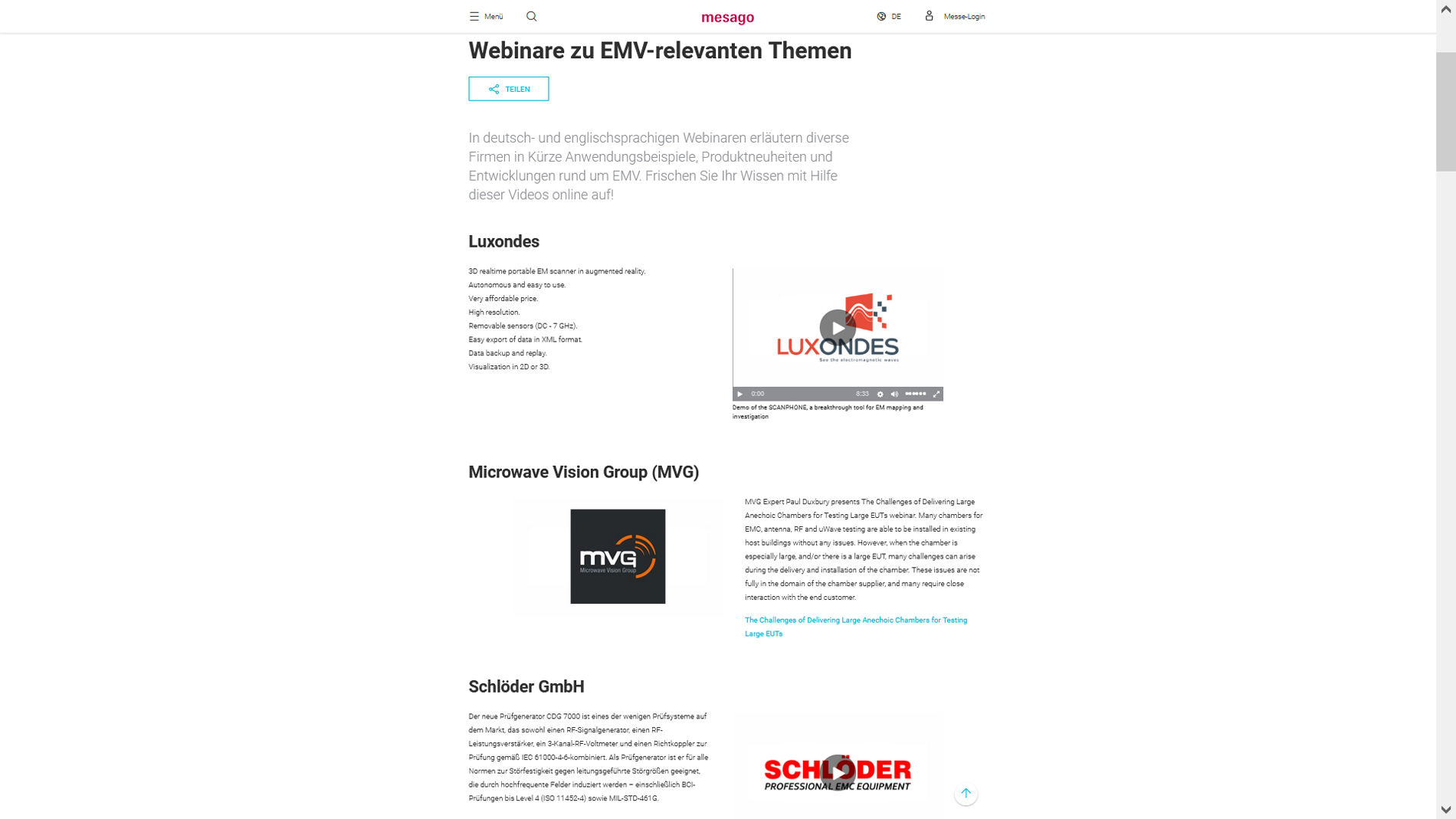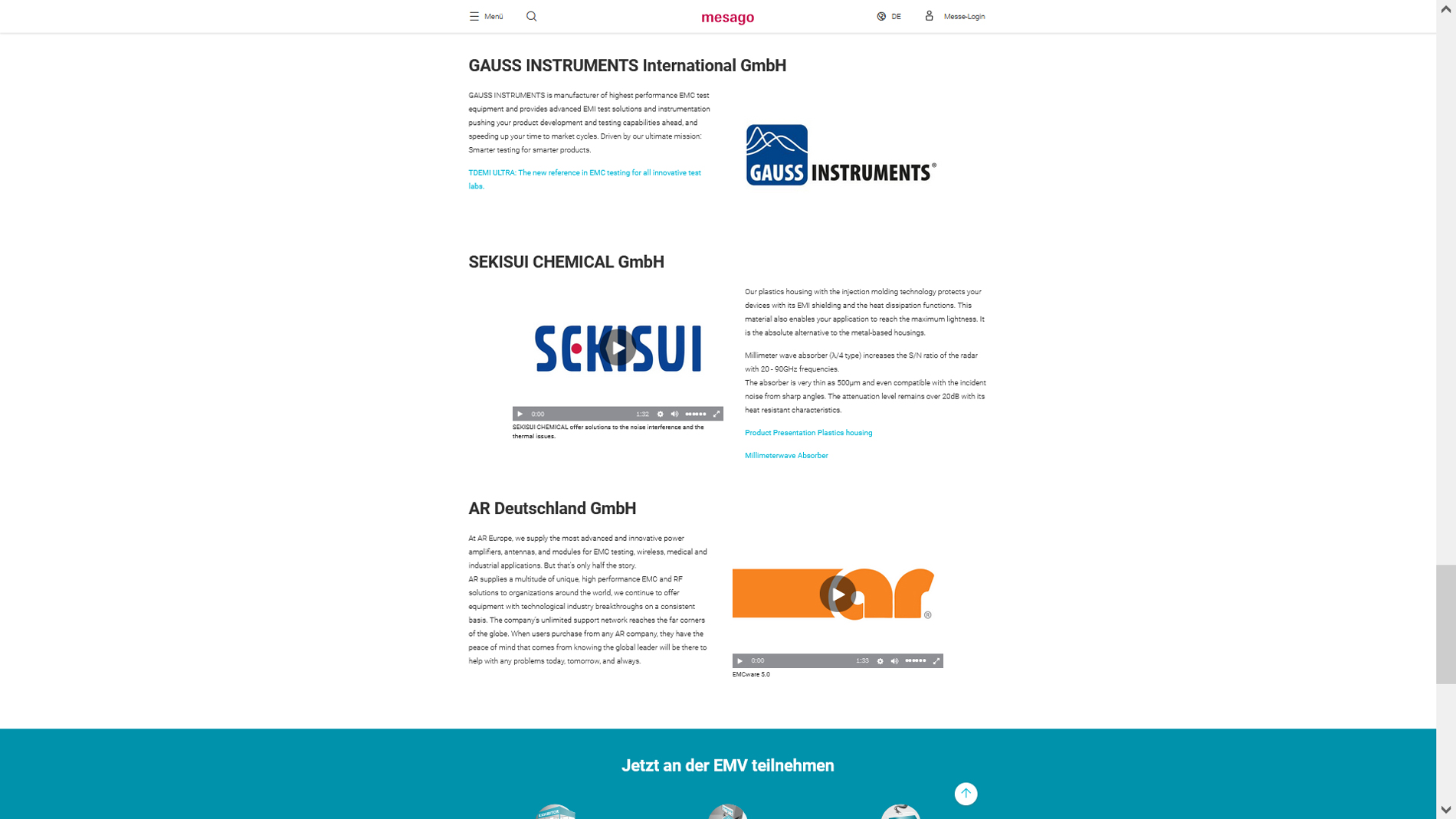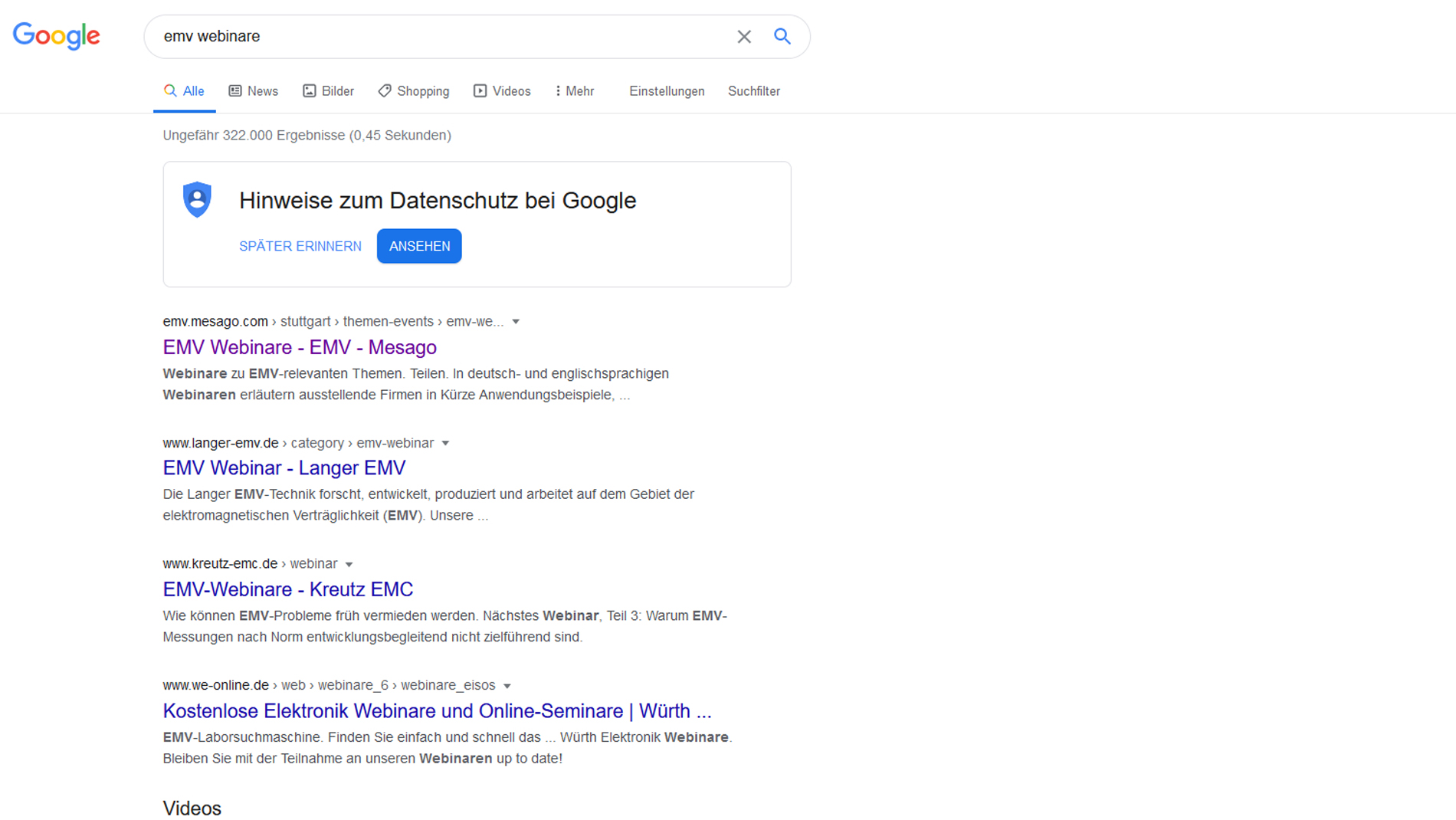 Advantages
Gain reach and attention
Reach customers 365 days a year, regardless the trade show date
Position yourself as a topic driver and impulse generator in EMC
Benefit from the low effort and submit already existing webinars
Services
Publication of your webinar on our website, sorted by product groups
Individual promotion of your webinar in EMV's social media channels (XING, LinkedIn)
Linking of your webinar to the exhibitor search
Promotion of all webinars in newsletters to visitors of the trade fair and the conference/workshops
Brief analysis: page views of the "Webinars" page (ad impressions) and number of clicks on your video file or link (clicks) for the entire booking period
Prices and conditions
The following scale prices apply based on website traffic:
| Month | Price |
| --- | --- |
| January |   250 Euro |
| February |   335 Euro |
| March |   335 Euro |
| April |   335 Euro |
| May |   470 Euro |
| June |   470 Euro |
| July |   470 Euro |
| August |   250 Euro |
| September |   250 Euro |
| October |   335 Euro |
| November |   335 Euro |
| December |   335 Euro |
| Yearly package (12 months) | 3,125 Euro |
Tip: If you book an advertising spot for twelve consecutive months, the total price is only 3,125 Euro and you save around 25 percent.
Minimum purchase quantity is three consecutive months

The price is for one webinar (one video file or link; if desired, the link or video file can be exchanged during the booked period)

The booking of a webinar place does not require participation in the trade fair as an exhibitor (attention, in this case the service "link with exhibitor search" does not apply)

The video or the link should be available at least one week before the booking period

Technical requirements
Short description (max. 600 characters) in the language of the webinar, video caption if requested
Logo in web quality
Duration of the webinar: no restrictions
Format of the video: mp4 or gif, Full HD, 16:9
Recommendations and tips
Content instead of advertising
It is much easier to reach viewers with concrete, specific technical content than with an image film, for example. We therefore advise you to use video content that adds value for the viewer:
Show examples of use, best cases or something comparable
Address current trends that move the industry
Present concrete products by means of demonstrations or the like
Annual package
Book twelve consecutive months and save around 1,045 Euro: The price for the annual package is only 3,125 Euro.
Video file instead of link
We recommend that you provide a video file instead of a link, as this is more user-friendly. Also, it has been found that additional registrations to get access to the video are a hurdle.
Language
You can reach a larger audience with English-language videos. Please note that German language webinars are only published on the German website, not on the English website.

Contact and booking
Are you interested? Please get in touch with:
The marketing contribution – overview of all services
The marketing contribution, which each exhibitor (main as well as co-exhibitor) has to pay with their registration to the event, offers numerous services you can make use of in order to highlight your business.
For the price of 390 Euro plus VAT you will get the following services:
You´re at the EMV? Share it with the community!
Inform the industry about your participation in the EMV! With an active social media communication you will increase your media range and the attention of the professional audience before, during and after the event.

Publish a post in our LinkedIn group: Which products or services do you offer visitors of the EMV? Do you showcase any product novelties? Does your company have any open vacancies?
Follow our LinkedIn page for updates and tag us in your posts – use the hashtag #emv2022 or the tag @EMV - International Exhibition and Conference on Electromagnetic Compatibility (EMC)
On all other social media channels you can use the hashtag #emv2022.
Visuals
Use the following material to visualize your exhibition participation.
Get noticed through targeted advertising
Whether in advance or during the exhibition, whether on the exhibition grounds or digitally − we offer a wide range of individual opportunities to present to your company. An overview of all advertising opportunities for the EMV is available in the Shop for Exhibitor Services.

Contact persons